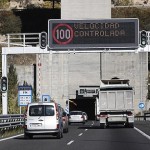 RADARS: We inform you that the Traffic Authorities have finally been observed installing two new radars on the N340-A7 motorway. They are installed at both sides of the main road on points km. 200 and km. 205.
The first one driving from Fuengirola to Marbella is on the pedestrian bridge passing El Faro de Calaburras, just before El Faro – the second one is on the pedestrian bridge passing the BP garage & Hotel Cio Mijas (LIDL) in La
Cala de Mijas. They both work together and calculate and check that you drive the 5 km at an average speed of 80 km/hour.
Mijas Town hall were apparently unhappy with the position of the 2 current standard speed cameras on the A7 between Fuengirola and Marbella as they have been placed on 2 stretches of straight road, meaning that people often slow down to pass them and then speed up again.
This is specifically dangerous for the one located at km. 205 towards Marbella, next to El Faro de Calaburras as people tend to speed up after the camera just as they are entering a sharp bend.
The other camera, located by the BP garage before La Cala heading towards Fuengirola is also just before the precarious La Cala bend.
Because of this common trend the Mijas Town Council had sent many letters to the Ministry for Development and the Spanish Traffic Department requesting that they change the location of the cameras as well as reiterating the need to carry out necessary improvements and maintenance on the road.
Let's hope this makes this dangerous and peril stretch of road safer in the future and save more lives.