The pound h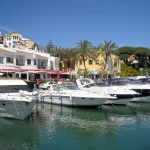 as opened the year with considerable strength against the euro resulting in a surge of investor interest in Eurozone property, particularly in Spain.
In response to Mario Draghi's announcement that the European Central Bank is to commence a major programme of quantitative easing in the Eurozone, the pound and US dollar have rallied significantly.
As a consequence, the pound has reached the highest level against the euro in the last seven years, instantly adding to the already strong appeal of Spanish real estate to UK buyers.
On the back of sterling strength since the beginning of the year, the pound now goes 5% further in Spain since April last year, with spending power increasing by 12% over that time.
Spain has always been a top destination
The dollar has also been on a bull run since the middle of 2014 against all major currencies apart from the pound, with the euro falling to an 11 year low against the global trading currency. This is expected to instigate an increase in large-scale investment by American private equity funds, particularly in Spain's prime commercial and residential real estate markets in Madrid and Barcelona.
Spain has always been a top destination for British property investors and a strong pound is not the only factor to bring about an increase in buyer interest, particularly in the resorts of the Costa del Sol.
Other market dynamics are renewing investor interest in Spanish property such as the record low Euro Interbank Offered Rate (EURIBOR), together with the widespread disposal of underwater property assets by Spain's banks and improved mortgage lending conditions to foreigners.
Spanish property remains heavily discounted against peak 2007 levels although there were pockets of price growth recorded in 2014, notably in the prime markets of Marbella and Madrid. Price growth is expected to filter beyond prime markets and hit coastal regions in 2015, particularly after a record-breaking year for tourism generated significant demand for holiday homes in resort areas.
Now is the time to consider buying in Spain
Tourism is the mainstay of the Spanish economy and the country is the 2nd most popular holiday destination in the world after France. A top favourite with British families, Spain is set to see further uplift in visitor numbers this year on the back of sterling strength, with many seeking to enjoy increased purchasing power while enjoying the sunshine.
It would seem that all indications are that now is the time to consider buying in Spain as we see increased affordability resulting from the strong pound; cheaper borrowing from Spanish banks and guaranteed rental yield from the swelling numbers of visitors flocking to the Costa del Sol.