A new push to target Swedish buyers to buy 40,000 properties on the Costa del Sol.
This week Malaga representatives, headed by tourism boss Elias Bendodo and tourist board manager Arturo Bernal, met with Swedish promoters at the Living Costa del Sol conference in Stockholm. At the conference, Malaga tourism boss Elias Bendodo said "The Costa del Sol is sure to satisfy all expectations the Nordic market has for quality, diversity and competitiveness,".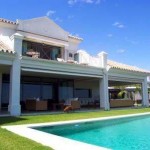 Under the new deal, buyers from Sweden, Finland, Norway and Denmark will be encouraged to purchase second and holiday homes on Spain's southern coast – many of which are lying empty as a fallout from Spain's property crisis. The Real Estate Agency, which has 250 offices in Sweden and seven in Spain, will be in charge of promoting the region to Scandinavia, with an initial chunk of a thousand properties targeted.
Some of the Costa's assets expected to impress Nordic buyers are golf, food, culture – as well as the beach and the sunshine. Swedish buyers have already increased dramatically over the last two years, with close to 120,000 arriving in Malaga in 2011 – 41% more than in 2010.